So you've decided you want to get underfloor heating. There are probably a variety of reasons why (you want the comfort of warm floors, you want to have an energy efficient heating system etc.), but how do you choose between electric and water based underfloor heating? Well, both systems can be used in almost any application, but certain factors of your project may mean that one or the other may be better suited to your home.
Comparing electric and water underfloor heating systems
| | | |
| --- | --- | --- |
| | Electric System | Water System |
| Installation time? | Rapid installation times. Some systems can be installed in 30 minutes. | Take longer to install. |
| How does it work? | Electric heating wires or heating mats connected to a line from the electrical panel. | Heating pipes pump water in underfloor circuits heated by a boiler system. |
| Project type? | Ideal for renovation projects. | Recommended for new-build projects. |
| Running costs? | System can be zoned to counterbalance electricity cost. | Lower long-term running costs than electric systems. |
| Installation costs? | Cheaper to install than water systems. | More expensive to install. |
| Function? | Electric heats up and cools down faster. | Hydronics heats up and cools down slower. |
| Maintenance? | No maintenance required. | Regular maintenance required. |
How does an underfloor heating system work?
There are two kinds of underfloor heating systems that you can install in your project: water or electric systems. Both use radiant heat technology to gently warm a room from the floor up and into the people and objects in a room as opposed to central heating systems which focus on heating just the air of a room, wasting energy. Floor heaters also provide much greater design freedom as visible pipes or bulky radiators are no longer required.
Electric
Electric floor heaters are available as either a heated mat or heating cable-based system and both convert electric energy into radiant warmth. Heating mats use ultra-thin electric heating wires pre-attached to a ready-sized mat which can simply be rolled out and adhered to the subfloor. Heating cables take the form of a free-form electric wire which can be directly installed onto or within the subfloor.
Water
Water systems, also known as hydronic underfloor heating or wet floor heating, involve pumping water, heated to an optimal temperature by a heat source (a traditional boiler or heat-pump) through underfloor heating pipes, also known as circuits, which are laid within or on top of the subfloor beneath your floor finish. Warmup offers a wide array of hydronic systems and heating pipes for all kinds of projects in the UK and will eventually in the US as well.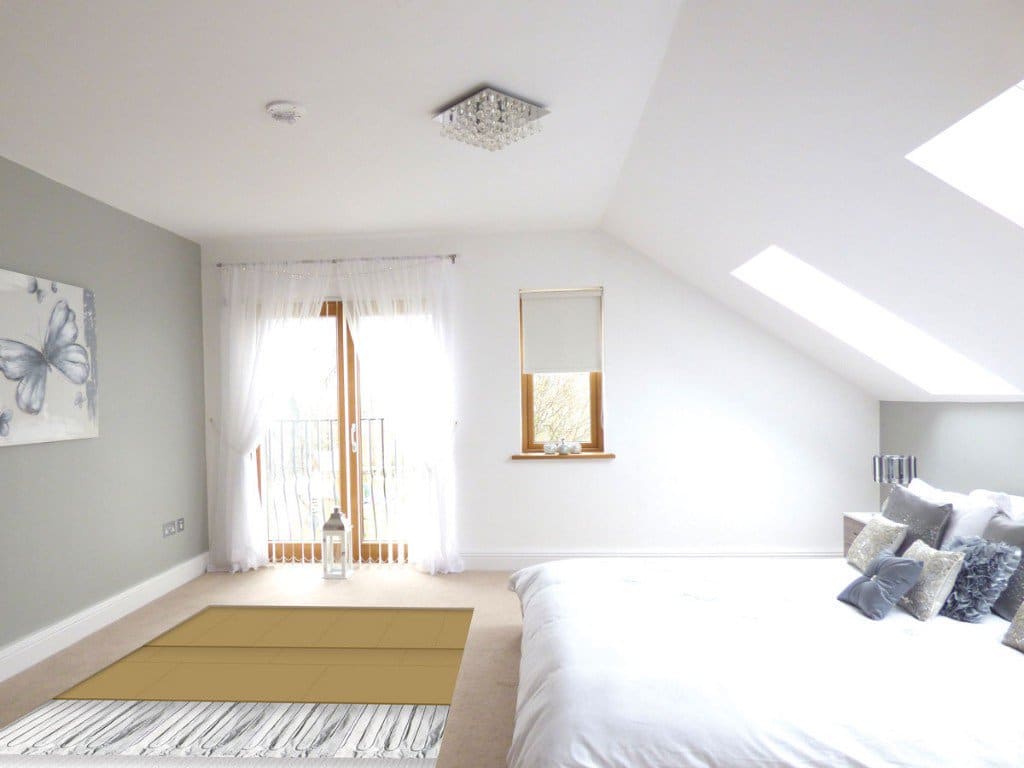 What kind of project is floor heating suitable for?
If you're considering floor heating for your home, the first thing to look at is the type of installation; are you looking to renovate and therefore retrofit a system or are you installing within a new-build?
Electric
If you are working on a renovation project, electric underfloor heating may be more suitable as it does not significantly increase the floor height. The Sticky Mat features a 3/8" heating cable which can be fitted within a layer of leveling compound or adhesive and so has little effect on floor build-up. Electric systems are also preferable if you're installing a heating system in just one or two rooms.
Water
Water systems typically recommended for new-build projects where the system will be the primary source of heat throughout the home. Most systems require installation within a thick layer of concrete leading to a greater system depth compared to electric heaters and a boiler to operate.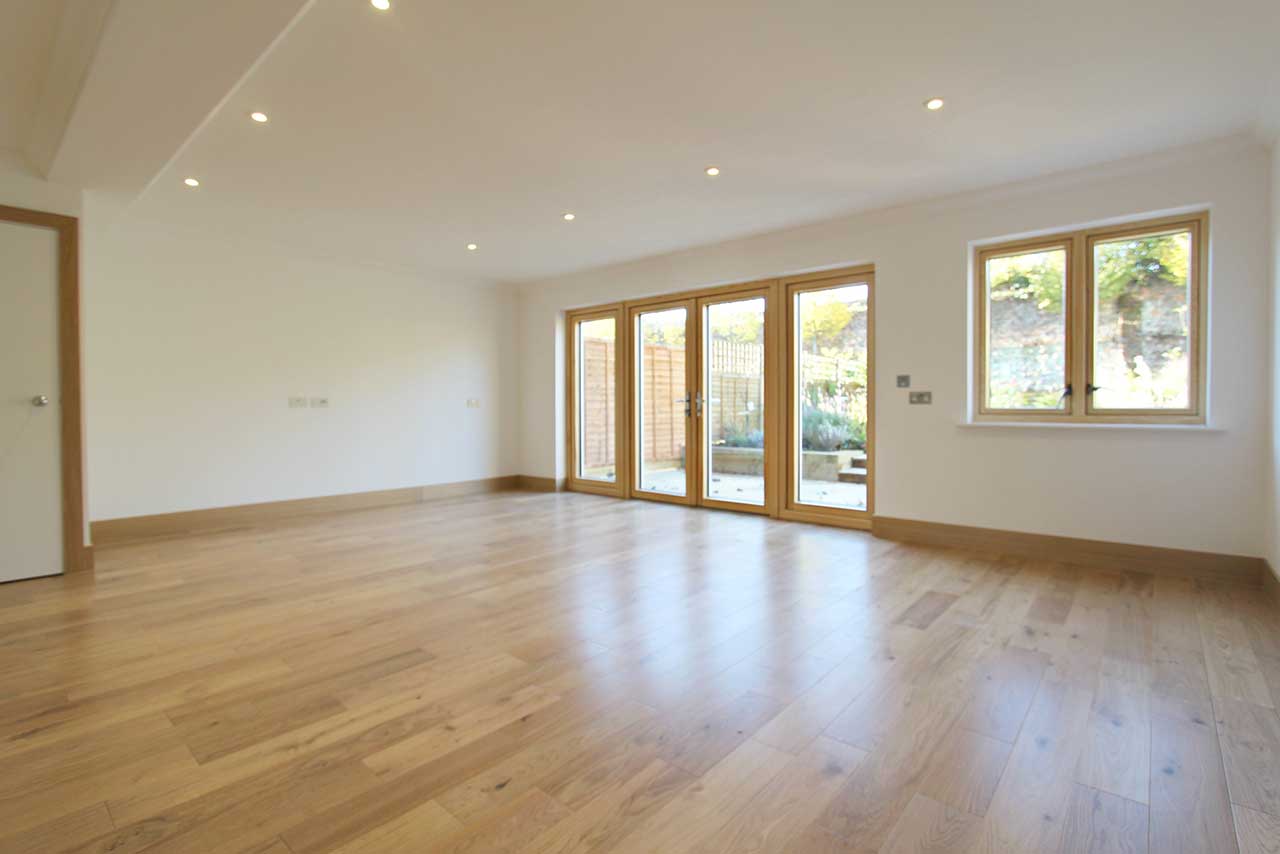 Can I install underfloor heating in my home?
The location of an underfloor heating installation in your home can also have an impact on the type of system you can, or should, get.
Electric
Electric systems are perfect for use as primary or secondary heat source. Heating a large area with electric underfloor heating is possible and efficient when paired with a smart thermostat or especially renewable energy. After installation an electric system is maintance free and totally out of sight.
You should always conduct a heat loss calculation and choose an underfloor heating system that provides more heat output than the maximum heat loss. However, installing high-quality floor insulation with an electric heater greatly enhances the efficiency of the system and aids in reducing heat-loss.
Water
Water based underfloor heating is generally recommended for installation on the ground floor of a project with good insulation. If you're renovating and using a low-profile system, it may be difficult to reach enough heat output from a low build water-based system if the subfloor is not sufficiently insulated.
Above the floor, a boiler is responsible for operating the system. Space and maintance for a boiler must be planned.

How much money can I save?
Floor heating uses less energy than central-heating systems by running at lower temperatures than radiators, while producing the same level of warmth. This increased efficiency results in lower long-term running costs than traditional heating systems. Running costs will vary on your home's construction, its insulation, your energy costs and how you control your heating.
Electric
After a proper installation you expect to pay from as little as $1 per week to heat your bathroom with a Warmup heater. To counterbalance energy prices, an electric floor heating system can be zoned to heat only the rooms you are using while you are using them. The cost of running an electric floor heater will be slightly higher than a water system but the upfront investment will not be as large and there is no cost for maintaining the system over time.
Water
Hydronic heating systems provide lower long-term running costs compared to electric systems and using a more efficient heating source such as an air source heat-pump can bring even greater savings. Additonal cost associated with a water system are regular maintance fees.
What are the installation times?
Installing floor heating in your project is easier than you think, but all systems should be installed by a fully qualified installer who has worked with floor heating before. All Warmup products are covered by extensive warranties for your peace of mind, including our renowned SafetyNet Installation Guarantee which protects you against any accidental damage caused to a Warmup system during the installation process.
Electric
Electric systems offer quick installations times with some products being installed in under 30 minutes. Electric heaters utilize a wide range of installation techniques including the self-adhesive backing of our StickyMat and  DCM-PRO electric systems.
Water
Water systems often take longer to install than electric systems, with time needed to test the system, the flow and pressure of the water and, in the case of 'wet' installations, waiting for the layer of concrete to dry before installing your floor finish.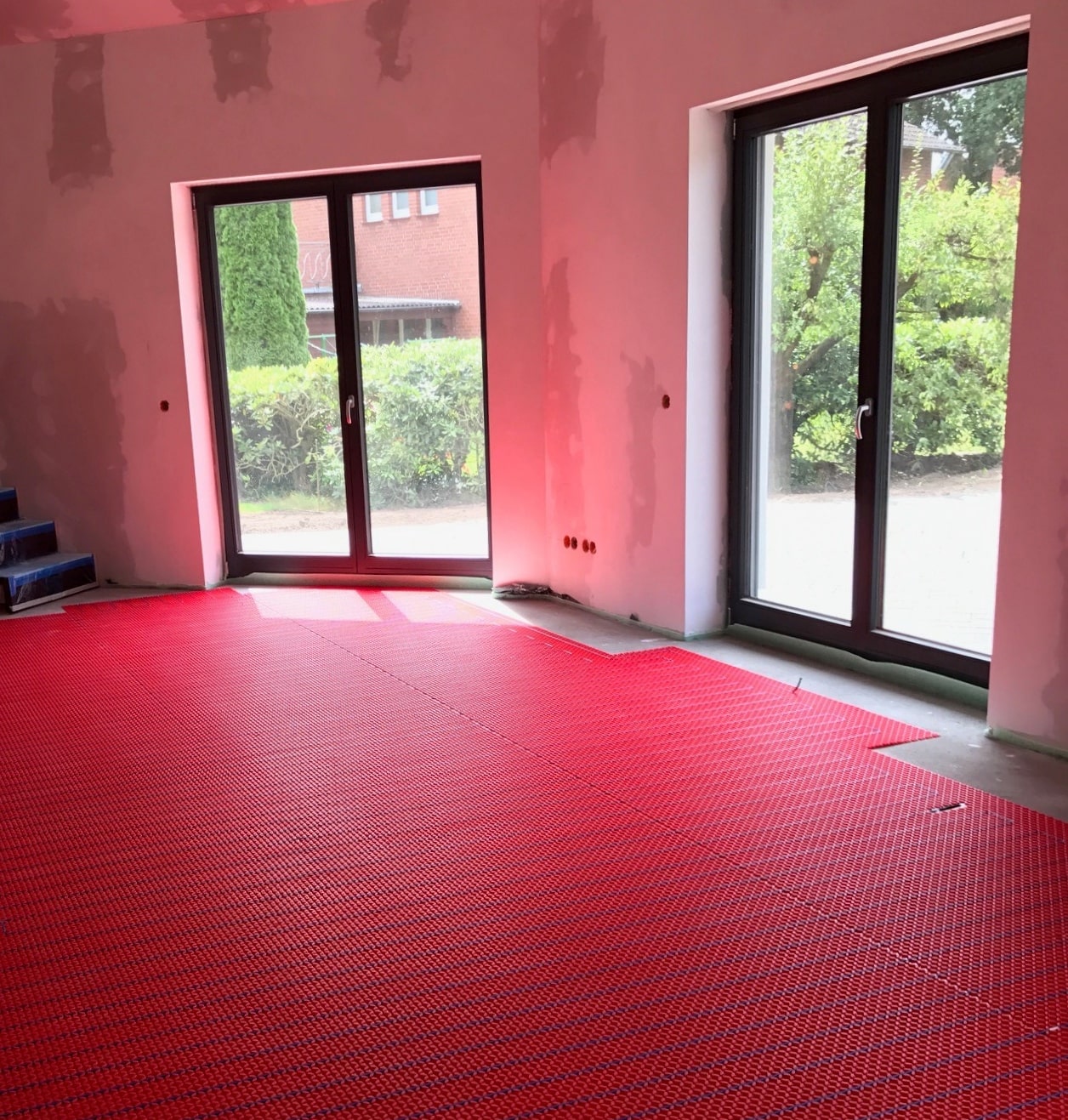 What are the installation costs?
When choosing a system, knowing the cost difference between a professional plumber and qualified electrician is a huge plus. Your own project parameters will dictate which is preferable. You can expect to pay around $50 – $100 per hour for a qualified contractor to install a heating system in your home.
Electric
Electric floor heaters provide great value for money. Installing our Sticky Mat in a bathroom with 40 sf of heated area including insulation and a Warmup Thermostat would be approximately $738 + tax.
Water
Hydronic systems are more expensive to install but cheaper to run in the long-term.
What is the difference between a 'wet' and 'dry' installation?
Underfloor heating systems offer either a 'wet' or 'dry' installation method; 'wet' meaning the system requires a layer of concrete to function and 'dry' meaning a concrete-less installation.
Electric
The is the only system that requires a deep layer of concrete, whilst most of Warmup's other electric products only require the use of tile adhesive or leveling compound. The can be installed totally dry.
Water
Water systems usually require being installed within a layer of concrete. There are some hydronic systems can be installed 'dry' without the need for concrete.
What would you like to do next?
Heated Floors
Floor heating is the modern heating solution – creating the perfect temperature, making you feel warm and comfortable from the moment you enter the room.
Quote Selector
---