Electric underfloor heating systems have become increasingly popular in both new constructions as well as retrofitting onto existing subfloors. If you've decided that underfloor heating is the preferred solution for your project and that an electric system is the route to take, read on. This article provides you with an overview of the various types available, the differences between them, and then provides some more in-depth information on electric underfloor heating mats.
Different types of Electric Underfloor Heating Systems
Electric underfloor heating systems come in various forms and the type you choose would depend on the specifications of your project. An irregularly shaped room with many units to work around would benefit from the flexibility of a loose wire heater. The Loose Wire underfloor heating system is the most versatile to fit around objects or in irregular-shaped areas. The cable can simply be manoeuvred around furniture in the room, whether that's basins and toilets in bathrooms or washing machines and fridges in kitchens. Loose Wire can be applied to existing concrete or slab subfloors, as well as directly onto robust insulation boards.
Electric underfloor heating mats are, on the other hand, quicker and easier to install in larger, more regular rooms than the Loose Wire version. Cover a big area with a pre-spaced electric underfloor heating mat that you can simply roll out over the floor.
Matting systems come in 120V to 240V versions. Ultra-thin electric underfloor heating mat systems such as a StickyMat system are suited ideally to be fitted on top of an existing concrete subfloor, since it does not alter the floor levels visibly.
Fully earthed systems such as the Warmup Foil Heater make for shorter installations in wet areas as the integrated safety mechanism eliminates the need for additional grounding nets.
If electric underfloor heating mats sound like the more suitable system for your project by now, then keep on reading. This article discusses the features of electric underfloor heating mats, their installation processes, and suitability with different floor types.
Electric Underfloor Heating Mats
As mentioned before, underfloor heating mats are especially suitable for regular shaped rooms and for heating a large area evenly. When you measure and create the floor plan, remember to subtract any fixtures such as baths and cupboards to ensure you get the correct size mat for the floor area.
The electric underfloor heating systems with higher wattage are designed for rooms where the heat loss may be higher, such as a bathroom above a garage. If insulation is required, insulation boards should be laid down first using flexible tile adhesive. Depending on the system, the mat heater is applied next using either the incorporated self-adhesive tape or if the heater is a decoupling mat, with a self-adhesive backing straight onto the insulation boards. The system can then be embedded into the slab before tiling, or even directly tiled over. Both systems can be used as the primary heat source and are best suited to permanent floor finishes including natural stone or ceramic.
Make sure you carry out a heat loss calculation prior to any project if you use the system as a primary source of heat to guarantee efficient performance.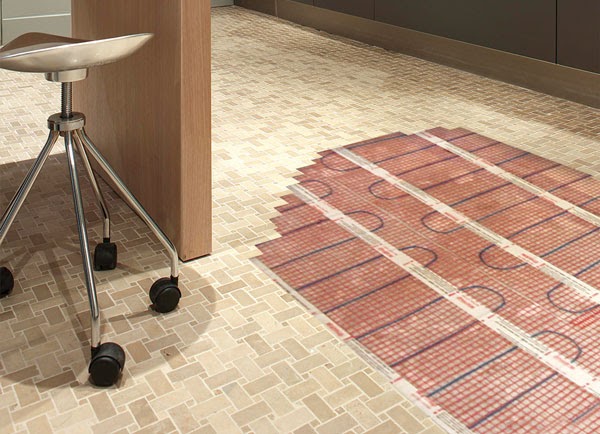 Electric Underfloor Heating Mat Sizes
The StickyMat relieves the installer from inserting the cable into the mat. The pre-spaced, pre-adhered cable allows the installer to focus entirely on laying the mat correctly, quickly and efficiently. Even if mistakes are made when laying the mat, the adhesive qualities of the mat allow it to be repositioned and stuck down once more without losing adhesion.
Furthermore, the mesh of the StickyMat can be cut where necessary to fit perfectly on the floor space in use, as long as the heating cable is not cut. You can read more about cutting an electric system later in the article.
Can Electric Underfloor Heating be cut?
No. It is important that the correct size heater is installed based on the available space as the heating cable cannot be cut. A certified electrician should be consulted for advice on extending the cable.
Electric Underfloor Heating Mat installation
Every heating system has specific installation instructions and it is crucial to follow the manufacturer's installation manual step-by-step to perform this correctly. If you have any doubts during any stage of the installation, always contact the manufacturer for help. You can also visit warmupedia.warmup.com, the Online Technical Help platform of Warmup Inc.
The Warmup StickyMat system comes in 120V and 240V and consists of a thin Warmup Loose Wire spaced and taped to a sturdy mesh. This makes the installation quick as the mat can simply be rolled out a length, cut (never cut the cable, just the matting), flipped, and stuck down until the flooring area is entirely covered.
The heating mat has a 1.8mm (1/8″) pre-spaced wire with a multi-strand core and double insulation with advanced fluoropolymer. The sturdy fibreglass mesh is extra durable and has super sticky double sided tape for secure installation. Thus the mat simply needs to be rolled out to begin the installation.
StickyMat heating cable is so thin that it does not raise the floor height visually. Therefore StickyMat makes an ideal system for retrofitting where the floor heights cannot be altered much. StickyMat is the most popular system for existing floors and rectangularly shaped smaller areas.
Electric Underfloor Heating Mats with Different floor Types
A frequently asked question is what floor type you can use with an underfloor heating system. Even though choosing your floor covering is an integral part of your project, it alone does not rule what system you should go for. Deciding on the correct underfloor heating depends on multiple factors such as the size of your project, whether you are working on a new build or a renovation etc. Next, we discuss the compatibility of electric UFH mats with different floor coverings.
The StickyMat system can be used with tiles, stone, wood and vinyl floorings. The StickyMat's main advantages, as mentioned above, are the ease and speed of installation, along with the 1.8mm (1/8″) system height that does not raise floor levels. This means that the StickyMat is the ideal situation for anyone who needs to complete the job rapidly, or has a concern for floor height alterations once the system is in place.
There is an underfloor heating system for every situation whether you are laying a stone or ceramic floor, carpets, wood or vinyl. Warmup has also a comprehensive range of heating controls that can be used on all systems making programming simple – even on multi-zoned projects. Find below more detailed articles about specific floor types with underfloor heating:
If you have any questions or would like further information, contact our customer service or ask for a quote.
Heated Floors
Floor heating is the modern heating solution – creating the perfect temperature, making you feel warm and comfortable from the moment you enter the room.
Quote Selector
---