Programmable thermostats and smart thermostats are cutting-edge technology that is taking the air conditioning and heating industry by storm. Instead of manually adjusting your home's temperature throughout the day, you can set up a schedule or make adjustments using the app on your computer or phone. You may never have to touch the thermostat again.
Of course, when it comes to smart technology, knowing what's right for your home can be pretty overwhelming. Thankfully, innovators are making the user experience more straightforward than ever, and programmable thermostats are much simpler than you'd think.
What Is a Programmable Thermostat?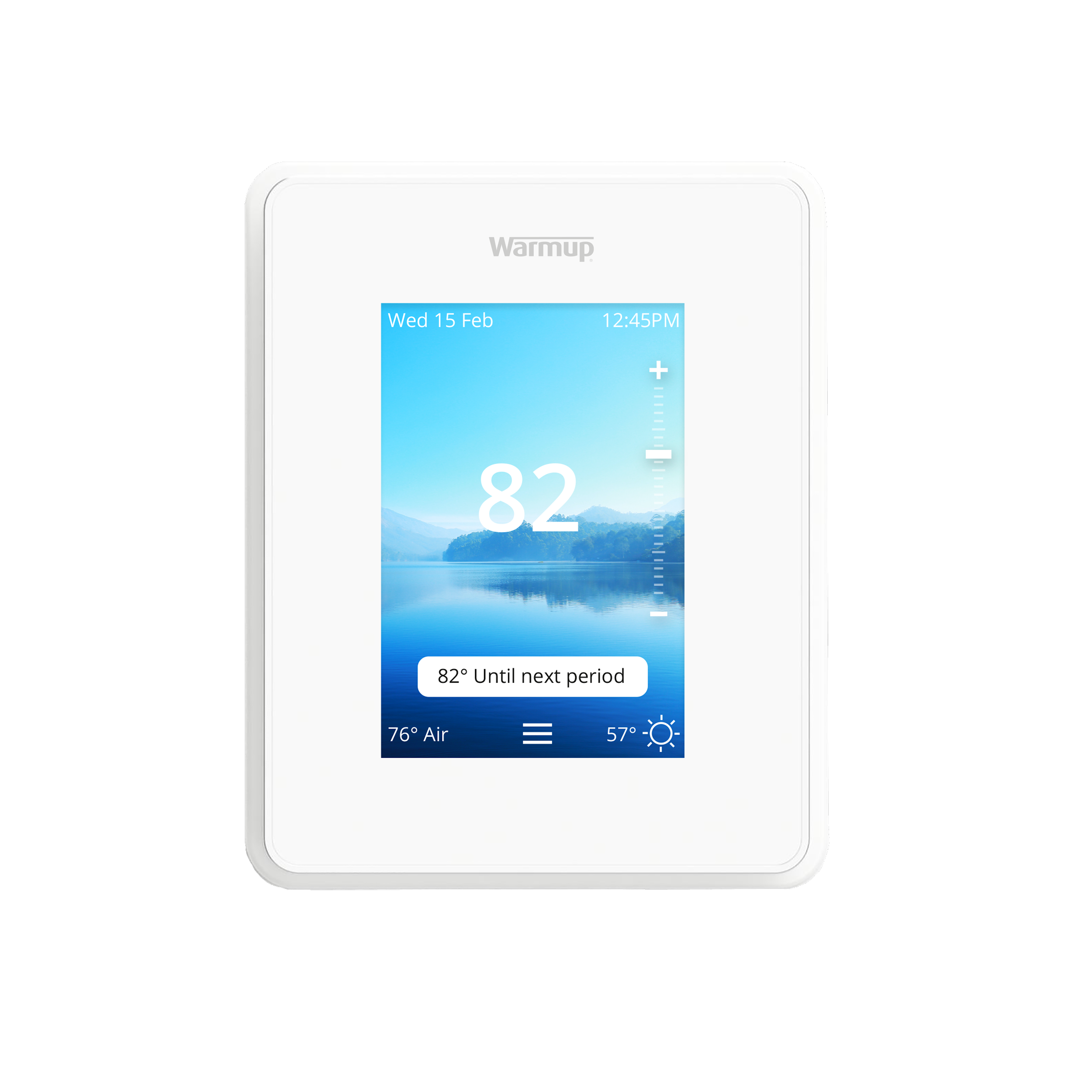 A programmable thermostat allows you to create a preset heating and cooling schedule for your home. For instance, if you like the temperature in your home to be set at 75° F during the day and 65° F at night, you can program your thermostat to make those settings automatically, so you never have to mess with it.
Is a WiFi Thermostat Different from a Programmable Thermostat?
A wifi thermostat, otherwise known as a smart thermostat, is very different from a programmable thermostat. Programmable thermostats that don't connect to your wireless internet can only be controlled and programmed using the thermostat's interface. However, with a wifi thermostat, you can adjust your schedule, temperature, and much more all from an app on your phone.
5 Benefits of a WiFi Thermostat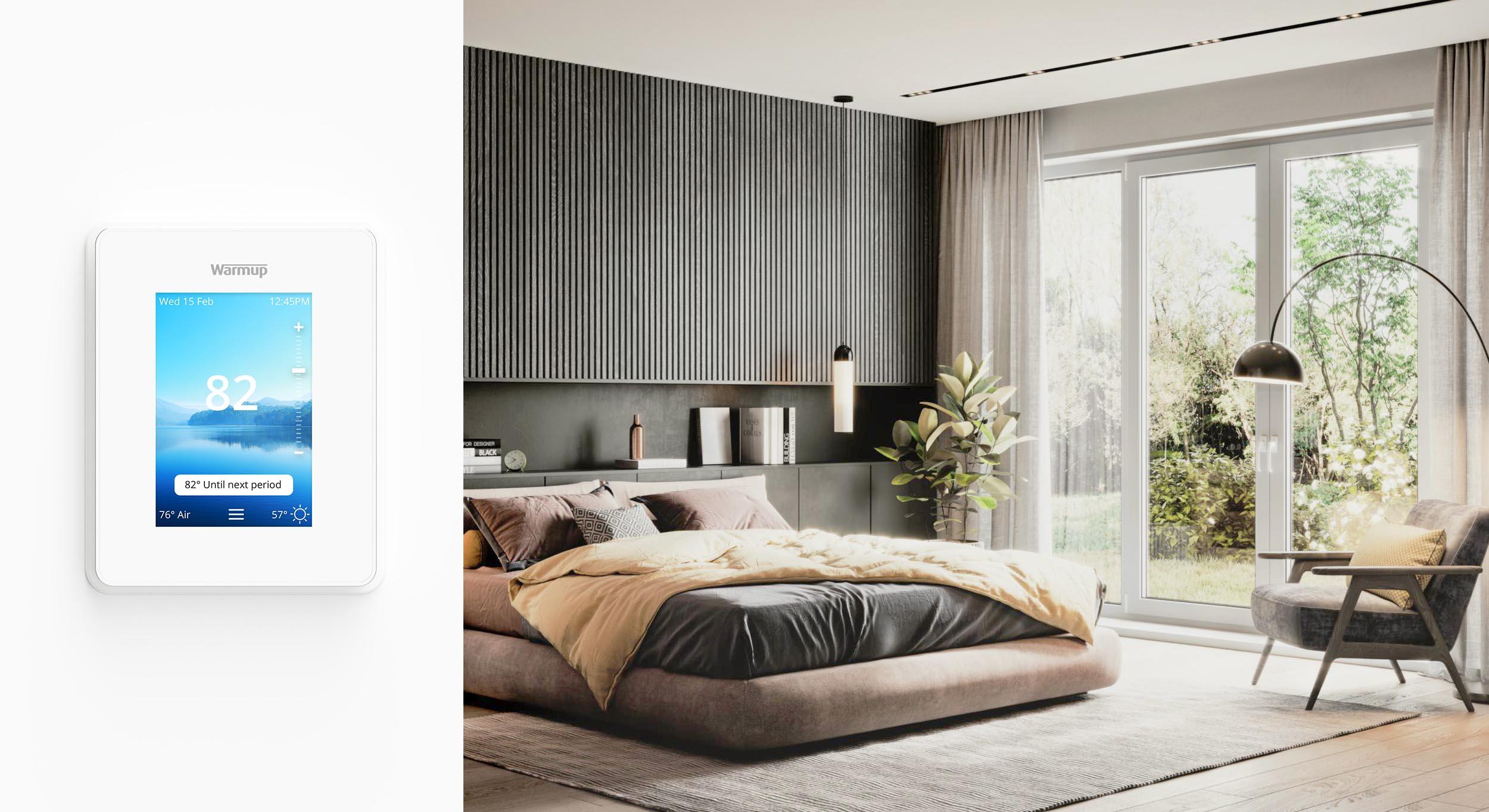 A wifi thermostat has the same essential advantages as a programmable thermostat, plus a few extra. In fact, there are a few significant differences that might make smart thermostats the optimal option for your home. Here are five benefits of a wifi thermostat:
1. Reliable, Consistent Temperature
Wifi thermostats, like the 6iE, utilize SmartGeo and use your local weather forecast to control the heating in your home, so you don't have to worry about programming your underfloor heating system. Instead, it happens automatically, saving you the hassle and providing reliable and consistent temperatures throughout the year.
2. It Saves Money
Smart thermostats save money because they regulate how often the air conditioner, heater, or radiant system clicks on and off. In fact, the 6iE saves up to $500 every single year. They're incredibly energy-efficient and perfect for anyone looking to reduce the cost of their electricity bill.
3. Different Temperatures for Different Preferences
What's great about wifi thermostats like the 6iE is that you can put one in every room of your home. By doing this, every member of your family gets to achieve their temperature preference. It also helps control costs because you won't waste energy heating unoccupied spaces.
4. App-Controlled Convenience
If you want to make changes, you can do so from the comfort of your couch, bedroom, or even while you're out of the house. All you need is internet access and a working phone or computer. This level of convenience is unrivaled by any other thermostat.
5. Smart Home-Enabled
Wifi thermostats are also compatible with smart home systems. If your property is smart home-enabled, you can connect your wifi thermostat to the same hub that controls the rest of your house. As an added benefit, the smart home system can learn your behavior and suggest schedules to improve efficiency.
How Does a Programmable Thermostat Work?
A programmable thermostat is actually a lot simpler than you might think. First, you create a schedule based on your individual needs. Once the program is set, the thermostat will run on its own, saving you as much electricity as possible by regulating how often it clicks on and off to maintain the desired temperatures.
You can change your programmed schedule at any time. If you're going to be away from home for an extended period, you can reprogram your thermostat to run low until the day you're expected home.
How to Set Up a Programmable Thermostat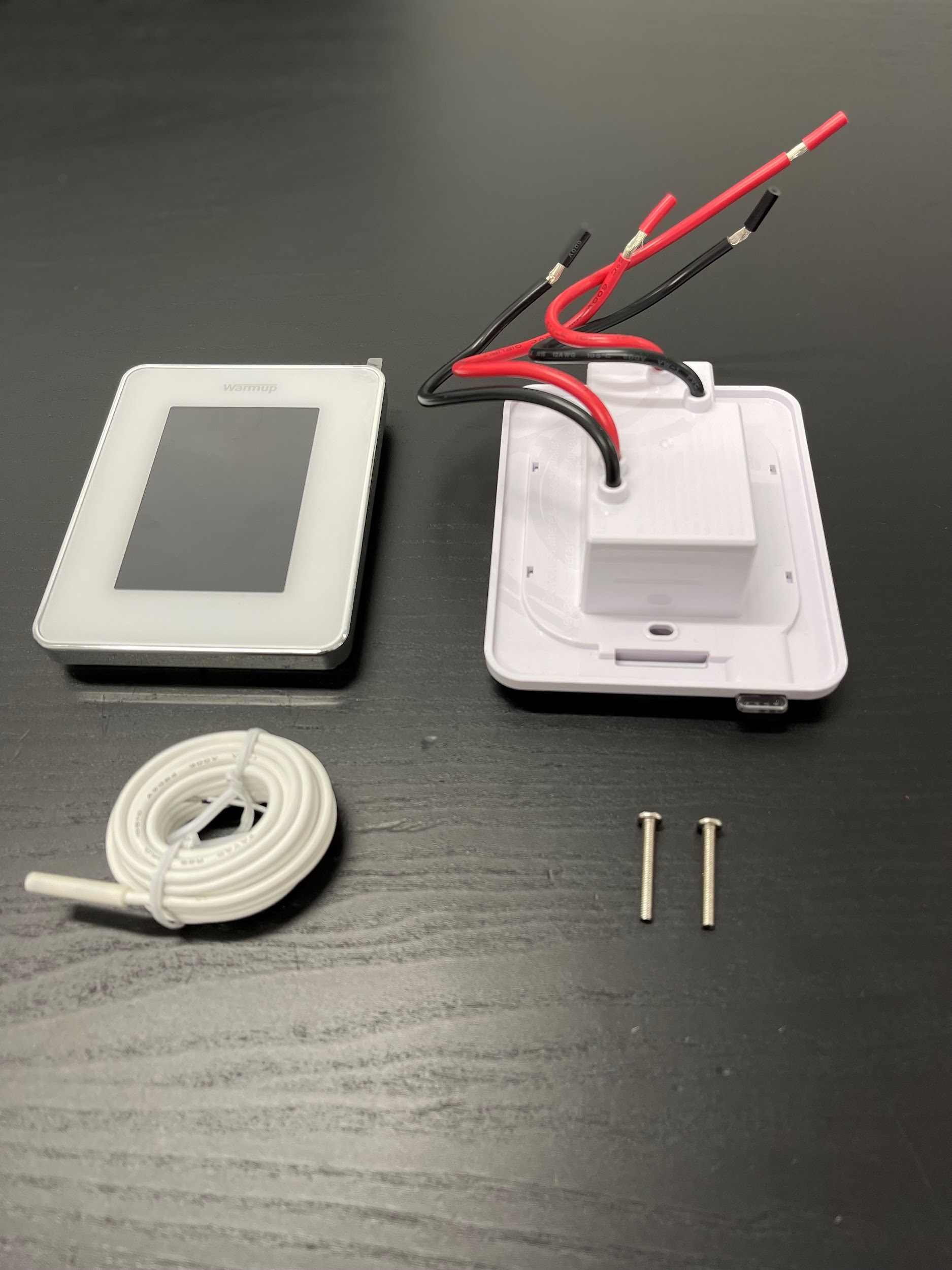 Setting up a programmable thermostat can be complicated. However, the 6iE has made the process simple. By scanning a QR code on the unit with the MyHeating app, you can register and program your thermostat in a few simple steps.
Turn Off Electrical Power
First things first, here at Warmup, we always recommend hiring a licensed electrician to wire up new thermostats because it's safer for everyone and ensures everything goes smoothly. The first thing the electrician will do is turn off the electrical power that feeds into the thermostat.
Remove the Existing System and Label Wires
Once the electricity is off, the electrician will remove the existing thermostat and label the wires so they know where they're supposed to go. They might even take a picture of the initial setup, just in case they need it for reference later.
Hook Up the New System
After they've removed the existing system, it's time to connect your new thermostat. The electrician will need to connect the wires to the correct ports and secure them tightly. Loose cables can affect the performance of your thermostat.
Restore Power
Once everything is connected and the electrician feels confident with your installation, they will restore your power. When the thermostat boots up, they'll follow any additional steps required to make it functional.
Download the Thermostat Application on Your Phone
For wifi and smart thermostats, you'll also want to download the app on your phone that allows you to control the thermostat. If you're using the 6iE, you'll install the MyHeatting app. Once you have the MyHeating app downloaded, simply scan the QR Code on your unit to get started, register, and more.
Match Energy Efficient Radiant Heating With a Smart Thermostat
If you're ready to control your electric baseboard heating or Warmup underfloor heating system, the 6iE smart thermostat is an ideal choice. Exclusively manufactured by Warmup, you can find the 6iE at a retailer near you.
Heated Floors
Floor heating is the modern heating solution – creating the perfect temperature, making you feel warm and comfortable from the moment you enter the room.
Quote Selector
---