Concrete has changed the way the world looks at development and construction. As a result of this incredible chemical concoction, buildings are much sturdier, roads are easier to drive on, and homes are less prone to foundation issues.
Despite all the tremendous benefits of concrete, it's also responsible for creating cold and damp living environments, which is less than ideal. No one wants their home to be uncomfortable, frigid, and expensive to heat. Thankfully, there's an affordable and effective solution to this problem – radiant floor heating.
What is Radiant Floor Heating?
Radiant floor heating is a method that generates heat using electrical wires beneath your floors. Electricity heats the floor, and since heat rises, the floor heats the rest of the home, covering all livable space.
This is an evolution in indoor heating that is affordable, easy to install, and incredibly effective. Once installed, it's maintenance-free, noise-free, highly efficient, and will provide evenly distributed heating throughout your home without blowing around allergens.
Radiant Floor Heating Works Great with Concrete
Radiant heating works exceptionally well with concrete because it has ideal heat-retention properties. The radiant heating system can also be concealed within the concrete while it's being poured, so it's never visible.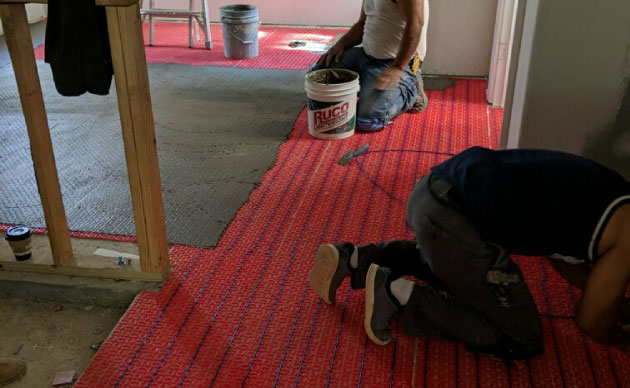 Instead of cold floors that are uncomfortable to walk on, you can have heated floors that are pleasant on your feet. It's a no-brainer!
Installation Process
Some home improvement projects are relatively simple, while others are incredibly complex. This particular installation process falls into the latter category because it requires specialized electricity and concrete installation knowledge.
Remember to educate yourself and decide what's best for you. When in doubt, find a highly reviewed and qualified installer in your area to help you out. They will be able to walk you through the process and explain what to expect.
If you're interested in tackling the installation process yourself, here are the steps for installing radiant floor heating in concrete:
Step One
Determine where your thermostat, junction box, and relay panel should be placed before installation. These enable you to change the temperature of the radiant heating system after it's installed. Put it somewhere that's easy to access but out of the way.
Step Two
Use a digital ohmmeter to test the ohm value of the heating element between the two conductors. Verify that this value is correct on the product's CSA tag. You should also take this time to use a megohmmeter to test the heating element between the conductors and the grounding element.
Step Three
Install eight to twelve inches of crushed rock aggregate on the bottom layer. Then, install two inches of insulation on top of that. Last, install wire mesh or rebar to reinforce the layers, using wire chairs or concrete pavers to keep them in place.
Step Four
Install the sensors and heating cables or radiant heating mats, connecting them to the wire mesh. Avoid overlapping, crossing, or touching two heating wires during this phase. Once everything is installed, be sure to test the cables and sensor with an ohmmeter before placing the conduit that connects them to the junction box on the wall.
Step Five
Now that the radiant heating system is completely installed, finish pouring the concrete. There should be four to six inches of slab above the heating elements. Remember to test the cable with the ohmmeter as you go, in order to ensure it's still functional.
Step Six
Once the concrete is finished curing, complete all the wiring for the relay panel, junction box, and thermostat. Once that's finished, you should turn on the breakers and test the system. If everything works, then you're finished!
How to Install Radiant Floor Heating in Already Poured Concrete
If you're already working with existing concrete and don't want to start from scratch, the process is a bit different. In fact, you have a couple of options.
First, you can install directly on top of the polished concrete. Follow the instructions or work with a professional to install insulation and the radiant heating system. Once the radiant floor heating is installed, you can pour a new layer of concrete on top, which will add a few inches to the floor.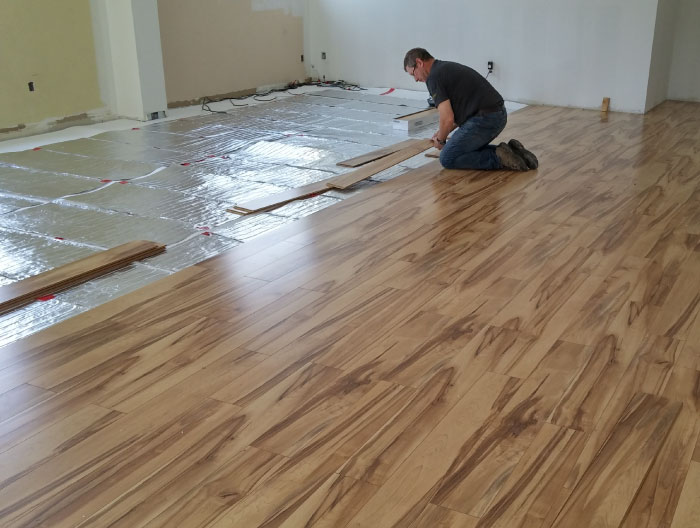 Another option is installing a new flooring type above the concrete. First, add insulation above the concrete, then install the radiant heating system onto the new subfloor. Once the heating system is properly installed, you can install wood, vinyl, or laminate flooring on top of it.
Warmup Provides Superior Radiant Floor Heating Options for Concrete Flooring and Slabs
Warmup offers top-of-the-line radiant floor heating solutions for concrete flooring at a fraction of the price of our competitors. We've provided radiating heating systems for over 25 years, and our products are used by professionals in over 70 countries worldwide.
Contact us today or visit us online to learn more about how radiant heating can change your life.
---