Tiled flooring is a popular floor finish for home renovations and new-builds alike and they are ideal to be installed with an underfloor heating system. There are a wide variety of floor tiles available on the market and when deciding on which type to use, one of the main questions people ask is: which floor finish works better with underfloor heating, porcelain or ceramic tiles?
In this guide, we'll explain:
The key differences between ceramic and porcelain tiles
Whether water or electric under tile heating systems are better for tiled floors
The heat-loss and heat-up times of ceramic and porcelain floor tiles
What kind of tiling is more suitable for wet rooms
The benefits of the DCM-PRO Anti-fracture Decoupling System for tiled floors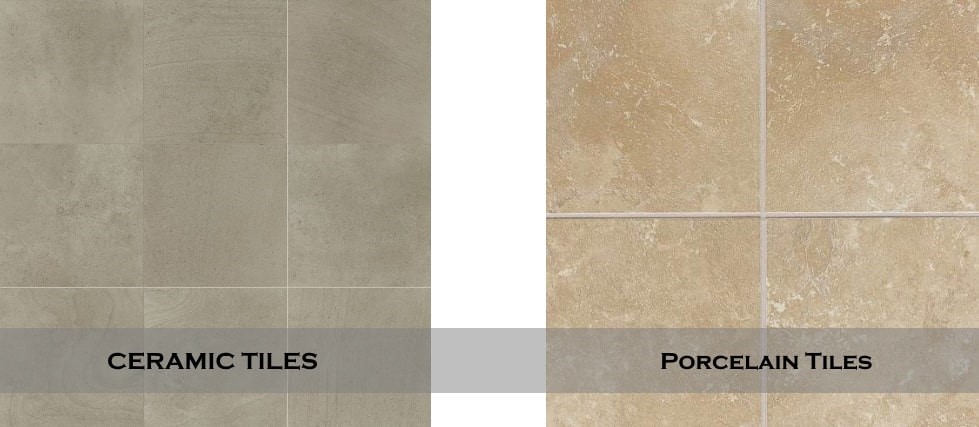 1. What are the differences between Ceramic and Porcelain tiles?
Ceramic and porcelain tiles are closely related, both are composed of baked clay, strengthened by heat and glazed for a smooth, hard-wearing floor finish. However, there are some notable differences between the two.
Type of Clays
Ceramic tiles are made using darker clays whilst porcelain is made using whiter clays. The clay used in porcelain production is more refined than that used to make ceramic tiles and is often mixed with other minerals such as quartz, feldspar and sand to make a harder, stronger form. Porcelain tiles are also baked at a higher temperature than ceramics too.
Tile Finish
There are also key differences in how the finished designs of porcelain and ceramic tiles are applied. Whilst ceramic and porcelain tiles can feature any design and color, the design on a porcelain tile typically seeps through the entire tile whereas the design on a ceramic tile is merely applied to the surface.
Certifications
Porcelain tiles must also be certified by industry groups to qualify as true 'Porcelain'. The PTCA (Porcelain Tile Certification Agency) evaluates porcelain tiles based on their water absorption rates.
| | | |
| --- | --- | --- |
| | CERAMIC | PORCELAIN |
| MOISTURE | Absorbs more moisture | Absorbs less moisture |
| HARDNESS | Softer | Harder |
| COST | Cheaper | More expensive |
| USAGE | Only for use indoors | Can be used both outdoors and indoors |
|  CUTTING | Easier to cut | Harder to cut |
Water and Electric Under Tile Heating
Both ceramic and porcelain tiles make ideal floor finishes for use with either electric or water underfloor heating. Floor tiles are great conductors of heat, quickly and efficiently dispersing warmth from the floor heater into the room. Tiled floors also provide a durable, hard-wearing surface which are easy to maintain. Warmup's underfloor heating cable systems are suitable for all kinds of tiled rooms.
For Existing Floors
Warmup's range of electric underfloor heating mats are a popular choice for using with existing tiled floor finishes. The StickyMat System is a perfect heating solution for regular-shaped rooms, being quick to install and easy to use. Another great choice is the DCM-PRO System, which is an innovative electric underfloor heating system that utilizes a unique decoupling mat that is proven to protect tiled floors from cracking.
For New Builds
If you're building a new home from the ground up and using tiled floors, you may consider installing a water underfloor heating system. At this time in North America, Warmup does not sell these systems.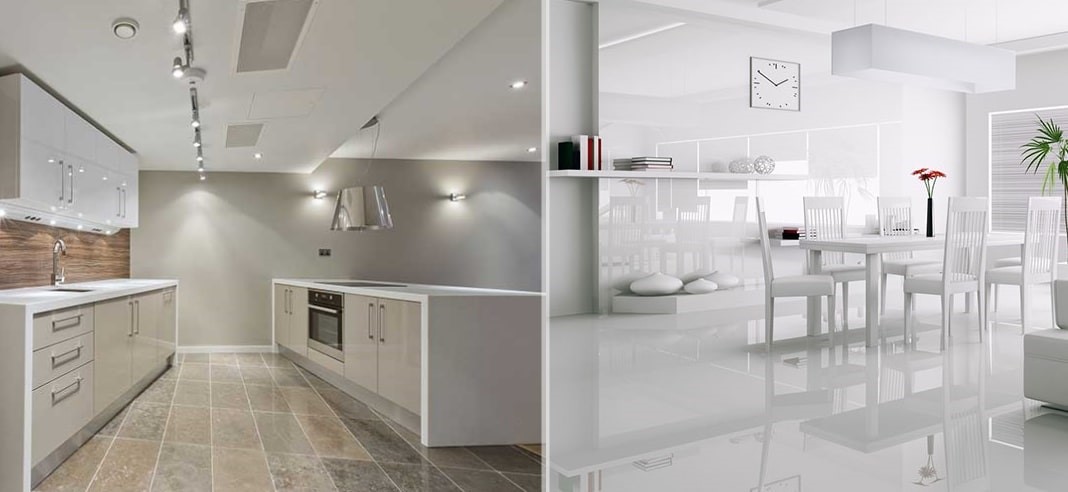 Thermal Conductivity of Ceramic and Porcelain
Underfloor heating takes the natural cold out of tiled floors, leading to a cozier, more comfortable room. Both Ceramic and porcelain tiled floors have a high level of thermal conductivity which means, when used with an underfloor heating system, they heat up faster and retain this heat for longer.
Heat-up Time
Heated tiled flooring is especially suited for heating up spaces with high heat loss, such as sunrooms or other, more exposed rooms due to the low thermal resistance and high thermal mass of ceramic and porcelain. Something to remember is that the thickness of the chosen ceramic or porcelain floor tile will have an impact on heat-up times – a thicker tile taking longer to be heated by a floor heater than a slimmer one. Porcelain and ceramic tiles can be heated up to 84°F (29°C), an optimal comfort temperature for any room in your home.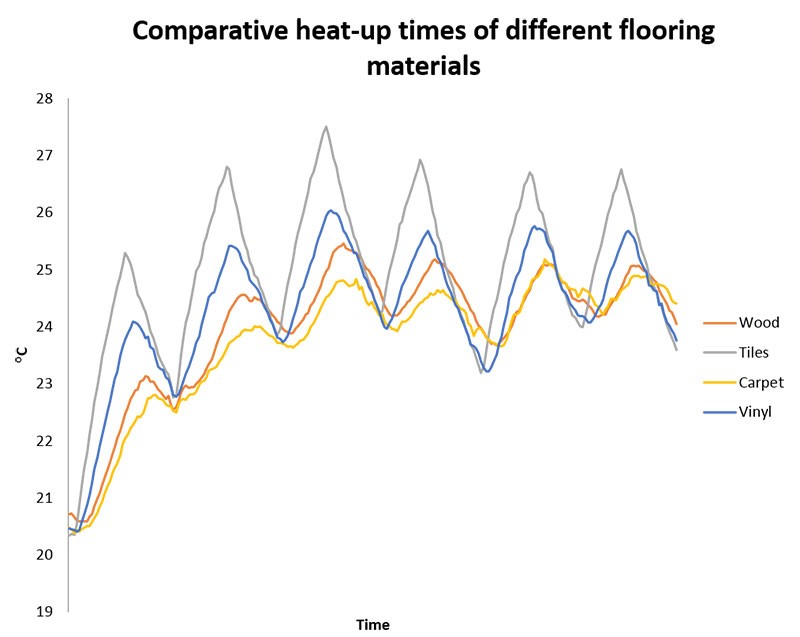 This graph shows how ceramic and porcelain floor tiling offers quicker heat-up times than vinyl, carpeted and wooden floor finishes.
Water absorption of Ceramic and Porcelain Tiles in a Bathroom
The combination of bathrooms being frequently tiled from floor to ceiling with either ceramic or porcelain tiles whilst also having limited wall space, make bathrooms one of the most popular rooms in the home to heat with an underfloor heating system. As they are made of natural materials, both ceramic and porcelain tiles are to some degree porous however porcelain is more impervious to water than ceramic.
The Water-resistant Test for Tiles
As part of PTCA guidelines, for porcelain to receive an approval rating it must pass the Standard Test Method for Water. Absorption set forth in ASTM C373. In this, a tile is weighed and then submerged in water for 24 hours before being weighed again. If the tile weighs less 0.5% more than it before it entered the water, it can be considered 'Porcelain'.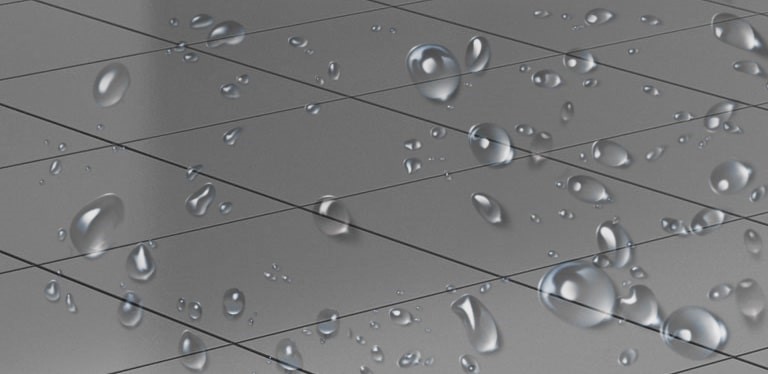 The Best Choice for a Wet Room: Porcelain Tiles
For their more water-resistant properties, Porcelain tiles are a better choice to use with an underfloor heating system in a wet room or bathroom. Always remember to use impervious silicone sealant and other waterproofing agents when installing a floor heater with tiled floors in a wet room. This resistance to water absorption also makes porcelain a much more suitable choice for outdoor applications, as rainwater will not soak into the tile too much.
Cost
It's also worth noting that this increased desirability of porcelain can also significantly impact on the costs of the tiles – with ceramic always being cheaper than porcelain.
Best Floor Heating System for Ceramic and Porcelain Floor Tiling
Anti-fracture DCM-PRO System
The DCM-PRO System features an anti-fracture decoupling mat that protects tiled floors from cracking. Due to structural movements within subfloors caused by seasonal temperature changes, both porcelain and ceramic floor tiles can potentially split and crack, but the DCM-PRO's innovative self-healing decoupling layer expands and contracts with this subfloor movement, preventing this damage from occurring.
Installation in Wet Rooms
If you're installing an underfloor heating system in a wet room, using the DCM-PRO System with its accompanying Waterproofing Kit is an ideal solution as it prevents water from the shower or bath seeping through the tiling onto the system below. Find out more about the features and benefits of the DCM-PRO System.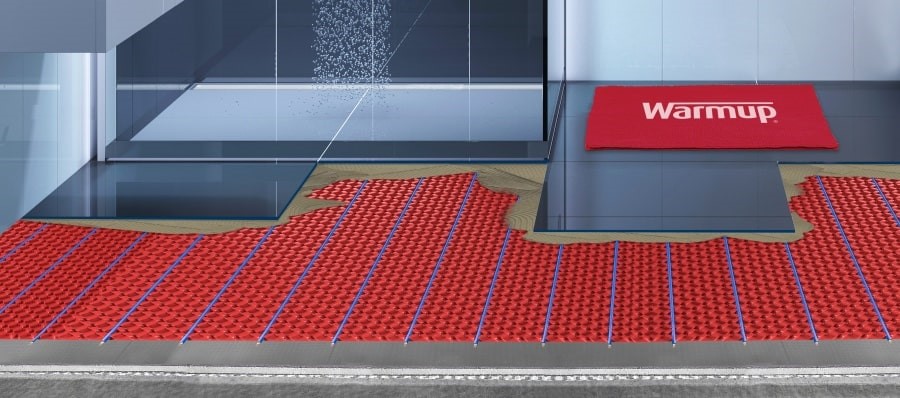 You may also be Interested in:
Heated Floors
Floor heating is the modern heating solution – creating the perfect temperature, making you feel warm and comfortable from the moment you enter the room.
Quote Selector
---