As an architect, home developer, or contractor, accurate structural design is a crucial and time-consuming part of your work. Fortunately, there are innovative and invaluable technological tools that help make that work a little bit easier.
Building Information Modeling, otherwise known as Building Information Management or simply BIM, is a process for creating and managing every phase of your development project. To create a usable BIM model, you need access to particular software. That's where Autodesk Revit comes into play.
Autodesk Revit is a BIM software used by contractors, developers, designers, architects, and engineers (structural, developmental, plumbing, electrical). Revit utilizes 4D modeling technology to create, plan, and track every step of the design, development, and implementation process.
If you're planning to install radiant floor heating in your next project and are looking for Revit resources to help guide you, you're in luck! Warmup offers several products with Autodesk Revit templates to make the planning and installation process as simple as possible.
Designing Radiant Floor Heating in Revit
Designing radiant floor heating in Revit allows you to see the project's completed look before you even start the installation. This type of foresight will enable you to catch potential issues and solve them ahead of time.
Warmup offers comprehensive Revit templates, so a chunk of the initial work is already done for you. Having essential product information and specifications already defined makes the modeling process infinitely more manageable.
If you're working on a larger development project, using Revit allows you to plan your radiant floor heating installation in conjunction with other project elements.
For instance, since radiant floor heating is installed on the subfloor, you'll want to complete the installation before you lay the final flooring. But, of course, that's not the only reason that planning ahead of time is essential.
The Importance of Planning a Radiant Floor Heating Installation
The planning process is a crucial component of a successful project, whether it's residential or commercial. Budgetary constraints, employee management, scheduling, client interfacing, and project deadlines are integral to development projects. Without a thorough plan, you might leave yourself open to unnecessary risks, like scheduling conflicts, budget issues, and on-site mistakes.
Construction schedules are difficult enough to follow as it is. If you want to stay within budget and on time, you must be organized and carefully plan every step of the process. A well-organized and detailed plan is the foundation of success in this industry.
The same principle applies to radiant floor heating installations. If you diligently plan your project from start to finish, you will have the highest chances of success. Utilizing Revit to facilitate your planning makes that prospect even more possible.
Designing with Revit Makes the Job Smoother and Ultimately Successful
To reiterate, Revit is a multi-faceted Building Information Modeling (BIM) software that aids in the creation of 4D modeling, project planning, and conceptual organization. It allows you to see your development project from start to finish long before you break ground, which is useful for several reasons.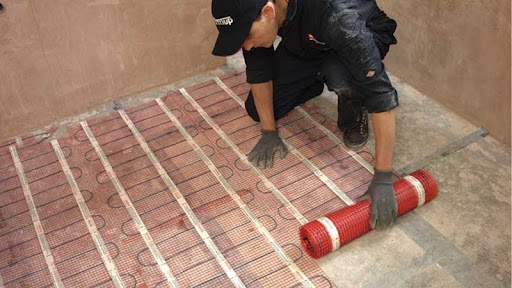 Revit is profoundly robust, so it allows you to complete every part of the planning process in one place. It makes collaborating with other professionals straightforward, by creating a digital interface that everyone can use simultaneously. Plus, it allows you to create schedules, coordinate, render physical and digital presentations, and is entirely accessible via the cloud.
Simply put, Revit makes every aspect of the development process as smooth as possible. It allows you to stay organized, on time, and within budget. As a result, it makes your work easier and gives you a higher likelihood of success.
Warmup Products with Revit Templates Available for Use
Warmup understands the value of Revit templates, which is why they provide them for a number of their radiant floor heating products. 
Here are the Warmup products with comprehensive Revit templates available for use right now:
Working with Warmup Revit Templates to Design Radiant Floor Heating
Warmup's Technological Solutions, give you access to a treasure trove of information, including product details, product specifications, Revit files, project pricing, a collection of client stories, installation galleries, and more.
You can even create an account on the back end of Warmup's website to help you further manage your heating projects. If you want hands-on representation to go along with the Revit templates, you can even order product samples. This provides you with the ability to have a physical medium to use in tandem with your digital assets.
Warmup has been a technological leader in the heating industry for decades. If you're interested in learning more about Warmup's Revit templates, check out our extensive line of heating products today. If you have any questions, be sure to reach out to us today!
Heated Floors
Floor heating is the modern heating solution – creating the perfect temperature, making you feel warm and comfortable from the moment you enter the room.
Quote Selector
---