SOME DECISIONS ARE ALREADY MADE FOR YOU
Whatever your design objectives are for your bathroom remodel or redesign (there is a difference), if you are planning to take it to the next level by adding the comfort and practicality of electric heated floors under tile, some decisions are already made for you.
For example, under no circumstance is the floor heating system installed underneath permanent fixtures such as cabinets, bathtubs or toilets.
The floor heating system (including the factory joint) must be completely encapsulated in modified thinset.
Additionally, when laying out your radiant electric floor heating system, you will need to keep the heated wire at least 6 inches from the wax ring installed under the toilet.
Let's move on to installation options for you to consider.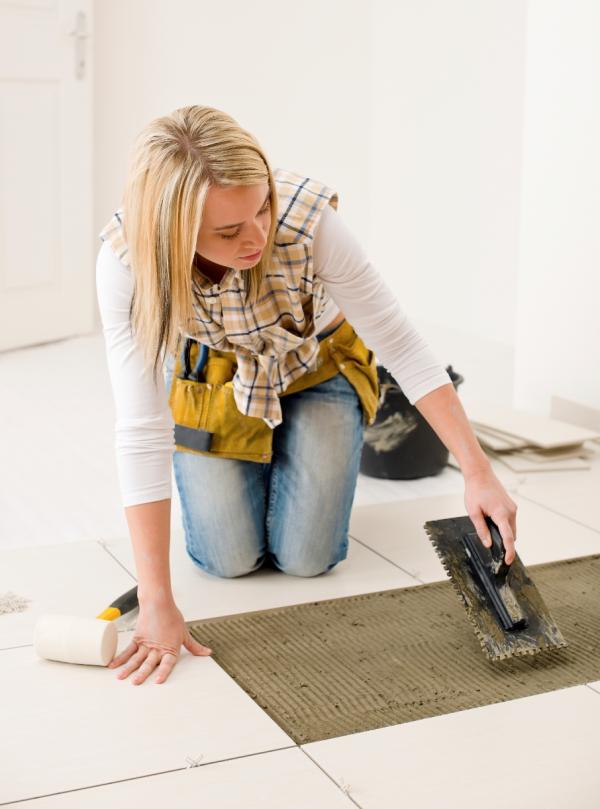 SHOULD I TILE UNDER OR AROUND THE TOILET?
While either method will work, the vast majority of both tile professionals and DIYs are in favor of removing the existing toilet and tiling underneath. It is worth mentioning that the only time you will likely confront this option is if you are removing bathroom carpeting (always a good idea) or vinyl flooring and replacing with tile.
In these instances, some have chosen to go what appears to be the "easier route" and leave the toilet alone, perhaps thinking "if it isn't broken, don't fix it."
Why though are the majority of professionals in favor of tiling under the toilet?
Here are some top reasons why:
Less cutting involved – less frustration trying to cut the tile up to the toilet.
Easier to replace the toilet down the road, especially if it has a different footprint.
The end result looks more professional.
We had an opportunity to get some feedback from Phil Green of Edge Strip Kits, who has been a tile setter for over 42 years. He states:
"As a professional Tile setter for over 42 years, I would say that I have never tiled AROUND a toilet. It's just easier to pull it and then tile under it. This allows the toilet to be changed in the future with no additional call back for tile repairs. Another good reason for pulling the toilet and not cutting around it would be to replace the wax ring at this time. Many simple leaks can easily be repaired by changing the wax ring seal. If you tiled up to the toilet, you would not be able to notice this small leak until extensive damage had occurred."
For additional advice, it is always helpful to see what type of advice is available on related, reputable forums. Here are two that discuss this topic:
MAKE A GREAT BATHROOM REMODEL OR REDESIGN EVEN BETTER
If you are considering laying tile for your bathroom, this would be the time to also consider adding Warmup electric radiant floor heating to keep those tiles luxuriantly warm during chilly days.
A complete floor heating solution can cost as little as $372.00 (includes advanced thermostat with GFCI) depending on your needs.
To improve the performance of your floor heating system, especially if you want it to serve as primary heating so you can remove those old baseboard heaters, you should seriously consider including Warmup Insulation Boards (WIBs) as part of the installation.
Heated Floors
Floor heating is the modern heating solution – creating the perfect temperature, making you feel warm and comfortable from the moment you enter the room.
Quote Selector
---