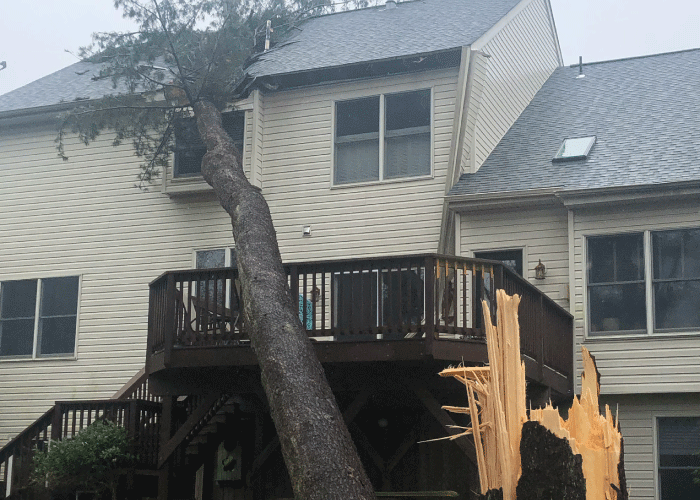 ---
PRESS RELEASE: Danbury, CT, August 2020
Teamwork after Tree Troubles
A Sudden Storm
On April 9, 2020 the weather near John's family home in Philadelphia abruptly shifted from sunny and calm to a violent wind storm with 70-mph gusts that uprooted a large pine tree that fell directly onto his house. Sunny skies quickly returned, but the sudden storm left behind irreparable damage to the master bedroom and bathroom, with branches coming through the ceiling of both areas after breaking eight trusses. John and his family were home at the time, but miraculously, no one was injured. With a mess to clean and insurance only covering the structural damage and value of the original 20-plus-year-old fixtures, John and his family were forced into an unplanned bathroom remodel.
Unexpected Outcome
As a beloved member of the plumbing/kitchen and bath industry, John began getting numerous offers to assist with his bathroom remodel as he began planning. So many in fact that the project quickly became a collaborative showcase. John felt fortunate that no one was hurt when the tree fell and taken back when so many in the kitchen and bath industry wanted to donate to his remodel.
The Weinsteins new master bathroom is a true labor of love featuring underfloor heating, high-end fixtures, and mirrored cabinets produced in Switzerland. The collaboration from 11 brands in this bathroom rehabilitation shows the best side of the industry – a helping hand to one another when times are tough. Watch an installation time-lapse here.
Learn more about all of the brands that worked together on the Weinstein renovation hereand be sure to check out #phillybathroomproject.
Heated Floors
Floor heating is the modern heating solution – creating the perfect temperature, making you feel warm and comfortable from the moment you enter the room.
Quote Selector
---