Heated Driveway Systems

Warmup driveway snow melting products keep driveways snow-free and ice-protected. They are placed under concrete, asphalt or pavers to prevent the accumulation of ice and snow. The system is connected to moisture and temperature sensing control for automated activation.
A heated driveway made simple and safe.
Would you benefit from a Warmup Heated Driveway System?

Heating a residential or commercial driveway is a great way to prepare for the unknown. In a steep area or a space with heavy foot traffic, a Warmup system offers piece of mind. Warmup snow melting mats and cables can be easily installed under pavers, asphalt, or concrete during driveway installation to ensure that a snow and ice-free surface will be maintained.  You can increase safety and convenience all while saving time this winter with our wide range of snow melting systems.
How Do Heated Driveways Work?
A Warmup electric heated driveway system wired to a controller is designed operate automatically. As it monitors moisture, temperature, and precipitation, the controller will turn the system on to heat the surface just above freezing. Timer systems exist as well and are operated manually, but may fail to keep up with snow fall if activated late. In contrast, the Warmup WSM-252W activates based on the weather forecast, so it can preheat the slab before the snowfall.
Snow melting mat systems are composed of heating cables laid loose on re-mesh or preformed mesh mats for a faster installation. For custom layouts and curves, loose cables are recommended. For straight runs, walkways and tire-tracks, Warmups 2ft and 3ft-wide mats are the best choice.
---
Heated Driveway System Installation

For concrete / asphalt
Warmup snow melting mats can be installed directly on an existing concrete or asphalt surface before an additional 2" pour or can be laid on a drained gravel base before a new pour. For an asphalt installation Warmup does recommend hand rolling the surface. During installation it is important not to use equipment over 1 ton.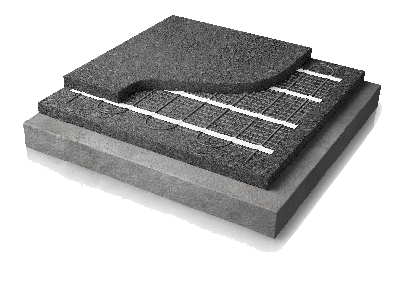 For under pavers
Heated walkway pavers offer the best of both worlds: style and function. During a typical paver installation snow melting mats or cables are laid on a drained gravel base followed by a layer of sand or fine gravel. This layer should be at least 1". Once this is done, the pavers can be laid.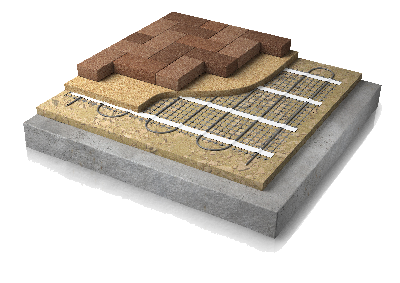 System Power Requirements
Mats

Cables

Voltage
240V
480V
600V
240V
480V
600V
Compatible with
208V
x
x
240V
x
x
480V
x
x
x
x
600V
x
x
Certain Mats and Cables are suitable for 3-phase wiring. Contact Warmup for details.
Standard mat output is 50W/sqft. Depending on wiring and de-rating, output can vary. For example, the output of a 240V mat wired at 208V will be 42w/sqft. It takes at least 35w/sqft in most climates to perform driveway snow melting.
Cables spaced at 3" apart will have the same 50w/sqft standard output, or 12w/linear foot. We recommend spacing cables at 4" for an output of 42w/sqft.
Products not suitable for 120V or 347V applications
Applications

Installation of a snow melting system can be done anytime a new walkway or driveway is laid. Coverage can follow a variety of patterns, with tire-tracks being very popular as they reduce upfront costs and future operating costs, yet remain very effective. You can connect up to 1,600 sqft of heated coverage to a controller, though this varies with controller choice. Refer to the installation manual for detailed instructions and recommended practices.
The
WSM-252W
will check the weather forecast to anticipate snow fall and pre-heat your driveway. Through the Warmup WSM app, the system can thus operate without snow sensors and parameters can be tailored to operate the system with less wattage and amperage, thereby reducing running cost.
The
DS Series
, with controls offering 1 or 2 x 30 amp contactors, is useful when you are heating small or several areas like; your driveway, walkway, stairs and can even be combined with your roof and gutter system. With a built-in moisture and temperature sensor, these controls activate only when necessary.
Warmup also has many controllers suitable for larger installations and commercial applications. Our
Commbox-600
features 4x 50 amp contactors in a plug and play format to accommodate large projects while also keeping them simple.
Cost
A heated driveway system will cost about $10/sqft though this will vary on coverage. Using a tire-track design can be very effective. For example, a 20x30 driveway heated edge to edge will likely run about $5,000 + controls. However two sets of tire-tracks running 30ft down from the two garage doors will run about $2,400 and still provide you with the convenience of a snow free pathway.
Controls can vary from $500 form smaller systems to $2,000 for WIFI-based systems. Large commercial controls with GFEP protection are also available. Contact Warmup for a detailed proposal.
10-Year Limited Warranty
This product comes with a 10-Years Warranty. We are completely confident in the standard of our products.
Area ft2
Item
Size
Wattage (W)
Amps (A)
Resistance (Ω)
10
WSMM-240/500
2′ x 5′
500
2.1
115.20
20
WSMM-240/1000
2′ x 10′
1000
4.2
57.60
30
WSMM-240/1500
2′ x 15′
1500
6.3
38.40
40
WSMM-240/2000
2′ x 20′
2000
8.3
28.80
50
WSMM-240/2500
2′ x 25′
2500
10.4
23.00
60
WSMM-240/3000
2′ x 30′
3000
 12.5
19.20
70
WSMM-240/3500
2′ x 35′
3500
14.6
16.46
80
WSMM-240/4000
2′ x 40′
4000
16.7
14.40
90
WSMM-240/4500
2′ x 45′
4500
18.8
12.80
100
WSMM-240/5000
2′ x 50′
5000
20.8
11.50
120
WSMM-240/6000
2′ x 60′
6000
25.0
9.60
30
WSMM-240V/3×10
3X10ft
1500
6.3
38.4
60
WSMM-240V/3×20
3X20ft
3000
12.5
19.2
75
WSMM-240V/3×25
3x25ft
3750
15.6
15.6
90
WSMM-240V/3×30
3X30ft
4500
18.8
12.8
120
WSMM-240V/3×40
3X40ft
6000
25.0
9.6
30
WSMM-480/1500
2′ x 15′
1500
3.13
153.84
40
WSMM-480/2000
2′ x 20′
3000
4.16
115.38
60
WSMM-480/3000
2′ x 30′
3000
6.25
76.8
80
WSMM-480/4000
2′ x 40′
4000
8.33
57.62
120
WSMM-480/6000
2′ x 60′
6000
12.50
38.40
Length (ft)
Item *
Cable spaced at
Wattage (W)
Amps (A)
Resistance (Ω)
3″
4″
5″
Gives sq ft coverage of
84
WSM-240/1000
20
27
34
1000
4.2
 57.1
168
WSM-240/2000
43
57
72
2000
8.3
 28.9
209
WSM-240/2500
51
67
84
2500
10.4
23.1
251
WSM-240/3000
62
84
104
3000
12.5
19.2
420
WSM-240/5000
100
140
170
5000
20.8
11.5
500
WSM-240/6000
122
181
200
6000
25.0
9.6
Snow Melting Products
Mat and Cables:
  Technical Specifications (Mat)
  Technical Specifications (Cable)
  Installation Manual (Mat and Cable)
Controllers:
  Technical Specifications (DS series)
  Installation Manual (DS-2C)
  Installation Manual (DS-5C)
  Installation Manual (Commbox 600)
  Technical Specifications (WSM-252W)
  Instruction manual (WSM-252W)
  Technical Specifications (WSM-63)
  Installation Manual (CDP-2)
 3-Part Spec
Find out about Warmup Underfloor Heating Systems