Insulation Boards
NEW 3-in-1 Ultralight™ is designed to save you $1/sqft per Year in Electrical Costs.
Guide Price
$2.66 /ft² MSRP

---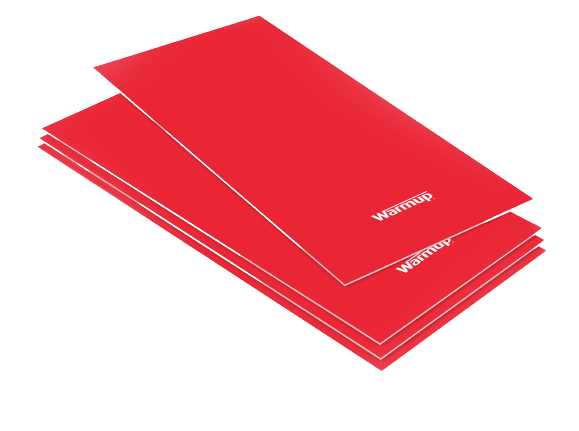 Helps Reduce Energy Usage
  Save up to $1 per square foot per year
  50% more even heating and 30% faster heat up times than standard boards
Built-in Decoupling Layer
  Helps protect floor tile damage caused by subfloor movement
---
Do I need Insulation Boards?
Many people wonder if it is worth insulating under their floors and the answer is that yes, it definitely is. Insulation boards are ideal for use with electric underfloor heating as they prevent the heat from the heating system escaping downwards to the subfloor. The Warmup Ultralight™ Insulation Boards do not let the heat pass through from the heater to the subfloor. Therefore the heat gets pushed upwards, onto the floor surface where you want the heat to go. It is recommended to always carry out a heat loss calculation if you are considering buying an electric underfloor heating system to understand how well your house is currently insulated and how big the heat loss is in your home.
---
---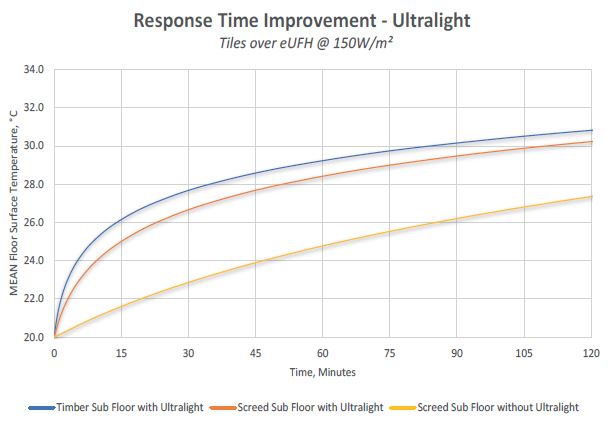 Insulation boards always improve the efficiency of your underfloor heating system by allowing a quicker heat up time, when no heat is getting wasted by going downwards away from the floor surface.
---
How do Ultralight™ Insulation Boards Work?
Ultralight™ is a specialized composite board for floor heating applications. The boards multi-layer design with aluminum, non-woven fleece, and PEF insulation works to achieve 3-in-1 benefits: insulating, heat spreading, and decoupling.
The rapid thermal response promoted by the PEF insulation and diffusion layer allows the flooring to heat up faster, resulting in a more energy-efficient and comfortable heated floor.
If specific calculations are required in order to meet Building Regulations, contact Warmup and we can do this for you.
How to Install Ultralight™ Insulation Board
Ultralight™ installs dust-free in 4 simple steps and the lightweight composite design makes it easier to cut curves and complex shapes without dulling knife blades, compared with cement-based backer boards.
1. Clean and dry a level surface
2. Prime with a solvent-free primer
3. Trowel out 1/4″ of flexible, cement-based adhesive
4. Lay boards on fresh grooves with staggered joints.
| | |
| --- | --- |
| Size | 2'x4'x¼" |
| Weight | 1.43 lbs |
| Thermal resistance R-Value | 0.630•F • ft2 •h/BTU |
| Compressive strength | 32 psi |
| Water Vapor Permeablity | 9.12 mg/m2h |
| Reaction to Fire | Euroclass E |
| Thermal conductivity | 0.031 BTU/•F •ft • h |
| Warranty | 10 years |