Underfloor heating for your Kitchen
Underfloor heating is the perfect solution for a kitchen, where space is at a premium.
---
Why Underfloor heating in your Kitchen?
As the heart of the home, our kitchens tend to be the most-used room in the house and need to be able to cater for entertaining, cooking and relaxing.
Underfloor heating is ideal for use in kitchens as it provides an 'invisible' approach to home-heating, perfect for rooms with little-to-no wall space for baseboards.
Warmup underfloor heating systems, whether used as primary or secondary heat sources, offer you unrivaled comfort in a cost-effective manner.
What System to Choose?
Kitchens are a perfect space to heat with underfloor heating solutions. We have a range of options for you to consider, suitable for different floor finishes and price points.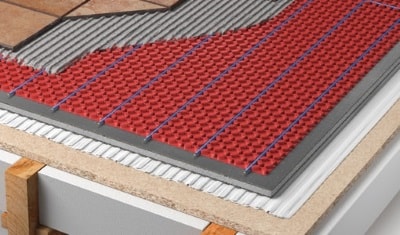 The DCM-PRO System features a heating wire that is fixed onto a decoupling mat for flexible top-of-the-line floor heating that is ideal for under large tiles.
The Heated Floor Mat system features heating wire pre-fixed for primary heat across a 20″ or 3′ wide fiberglass mesh for easy installation in regularly shaped kitchens.
---
Best Kitchen Floor Finishes
Underfloor heating can be installed with almost all flooring types. Certain floor finishes have temperature limit restrictions which impact the heat output of the floor.
     •Wood, vinyl, laminate and carpet are limited to 81°F (27°C)
     •Tiles or stones can be run at higher temperature for more heat output (e.g. 86°F)
It is important to note that flooring that is too thick will hinder the efficiency of the system leaving the floor temperature and maximum heat output too low to provide heat.
---
---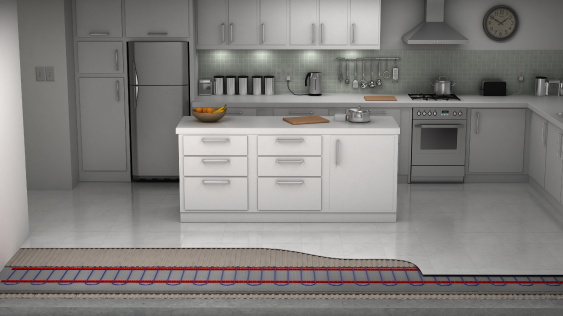 ---
Cost of Kitchen Floor Heating

Warmup's systems are competitively priced and offer and offer an efficient solution for primary heat. To get a better idea of operating costs for your home, visit our cost calculator.

The Advantages of Heated Floors in the Kitchen
Design Freedom for your Kitchen
If you are renovating, electric underfloor heating is the ideal addition to your project as it will not increase the floor height and will give you a chance to enjoy warm kitchen floors for years to come.
The system offers design freedom by freeing up more space as, depending on the heat loss, no bulky radiators are needed. Underfloor heating does not take up any wall space, allowing you to fully enjoy the kitchen of your dreams.
Comfort and Energy Efficiency
In new homes, kitchens are often designed as part of a broader living space to better accommodate family and friends as an additional area for entertaining. Homeowners of older properties often alter and enlarge these spaces to match their modern lifestyles and add value for resale purposes.
Underfloor heating is a popular choice amongst homeowners looking to increase their comfort and improve the energy-efficiency of their kitchens. Underfloor heating spreads warmth over the entire floor area, utilising radiant heat to gently heat the room to the desired comfort temperature.