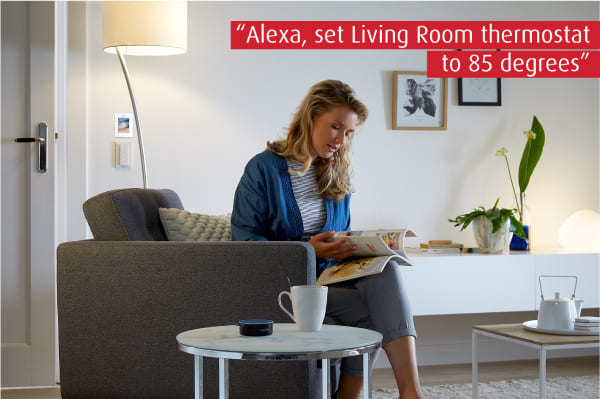 Features and Smart Home Compatibilities
Warmup's 4iE and 5iE Smart Thermostats work automatically to control the heating management of your smart home and are packed full of unique features that work intuitively to provide you with truly optimized heating. With no need to program, the thermostats learn how you use your heating to calculate more efficient settings and are simple to use and ideal for a more energy-conscious, ecological way of life.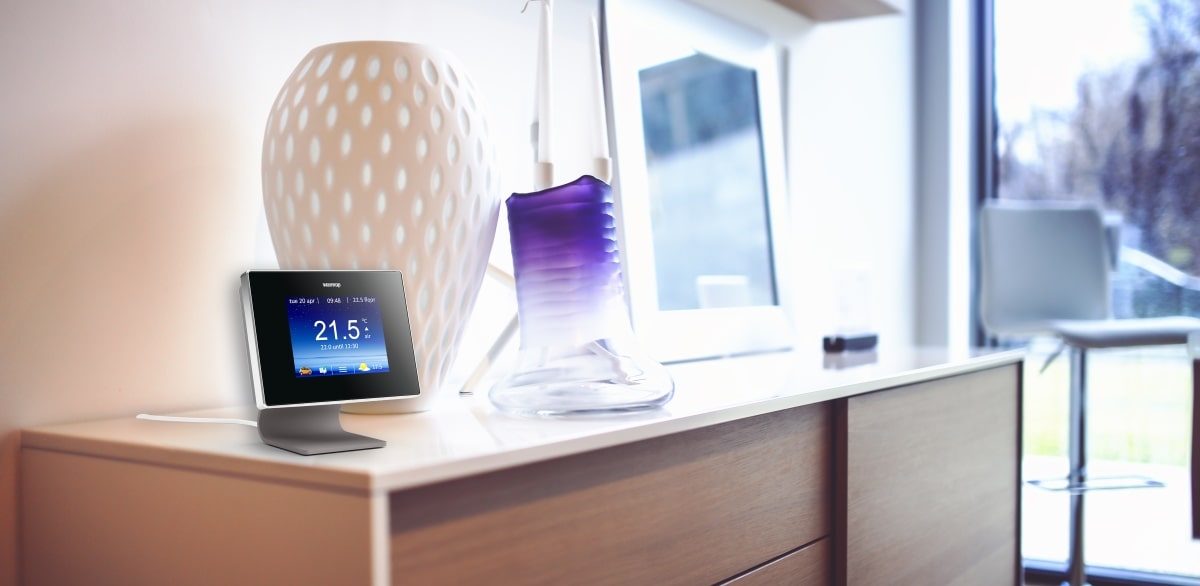 (above: Warmup's 5iE thermostat for boiler systems. Not yet available in the US or Canada)
The 4iE Smart WiFi Thermostat: For Underfloor Heating Systems

The 4iE Smart WiFi Thermostat is an advanced thermostat that is recommended to use with an underfloor heating system.
The 4iE is ideal to automatically control and regulate your home's heating. Featuring advanced technologies, the 4iE makes sure your underfloor heating system is at the right temperature, at the right time.
The 4iE: Giving you more than you might think
With glass effect front faces and beveled chrome edges, Warmup Smart Thermostats are designed to look great in your home, whether your space is modern or more traditional in style. Featuring a full-color touchscreen, you can also personalize the Thermostat with customizable backgrounds. Using the MyHeating app also allows you to see how the thermostat would look on different surfaces by presenting a 'virtual' thermostat on your smartphone's screen.
Natural Language Programming
For ease of use, the app uses Natural Language Programming to communicate with you using familiar terms and phrases to understand the specific requirements for your heating program. For example, it may ask you "What time do you get home from work?" to help provide you with an ideal heating program that suits your schedule.
Weather Service
The 4iE can also communicate wirelessly with Global weather service to let you know the week's weather forecast. A small display on the thermostats lock screen provides a convenient location to view the weather in your area.
Works with Warmup Smartphone Apps for smarter, more energy-efficient heating
Learning your routines through background communication with your smartphone through the MyHeating app, Warmup's SmartGeo technology communicates your location with the Smart Thermostat for truly optimal, automatic heating management.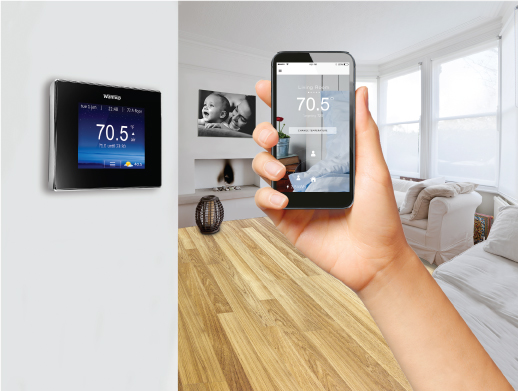 Learning your Routines
SmartGeo informs the thermostat to lower your home's temperature when it is vacant and raise it to an ideal comfort temperature in time for your arrival back – meaning you will never come home to a cold house again. After using a Smart Thermostat for a few weeks, the MyHeating app will have a good understanding of what time the resident's leave the house and when they come back – and how frequently people dash in and out too – to create an organic, automatic heating schedule. SmartGeo can also track unexpected delays or change of plans, only heating the home when it is sure you are returning.
Efficiency & Savings
The United States wastes more energy than any other country in the world. In fact, the United States wastes more energy than we use. Energy waste surrounds us in our homes via heat loss, lighting, and noise. To save on electricity, the Warmup system is designed so that each space has its own control allowing you to program for the needs of each room. For some people, that can mean heating your entire home and in more common situations, it can mean heating single rooms while they are in use. On average 60% of energy dollars are spent on heating (Hydro One, April 2018) and by simply heating only the rooms in use you'll be happy to see significant savings in this large spending category.
Control using the Amazon Echo Voice Assistant
You can control your 4iE Smart WiFi Thermostat for underfloor heating or baseboard heating through the Amazon Echo. Use the Amazon Echo in partnership with the MyHeating app to control your home's heating with your voice. Simply enable the Skill in the Alexa app or ask Alexa to install.
Connects with other Smart Home technologies through IFTTT
You can connect a Warmup Smart Thermostat with other Smart devices in your home via the IFTTT platform.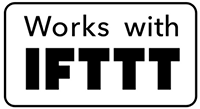 IFTTT allows communication between all the different Smart Home technologies you use in your home. Through IFTTT, Warmup Smart Thermostats are compatible with a whole range of Smart Home technologies including Phillips Hue devices, SmartThings, the Google Assistant, Amazon's Alexa and many, many more.
Heated Floors
Floor heating is the modern heating solution – creating the perfect temperature, making you feel warm and comfortable from the moment you enter the room.
Quote Selector
---